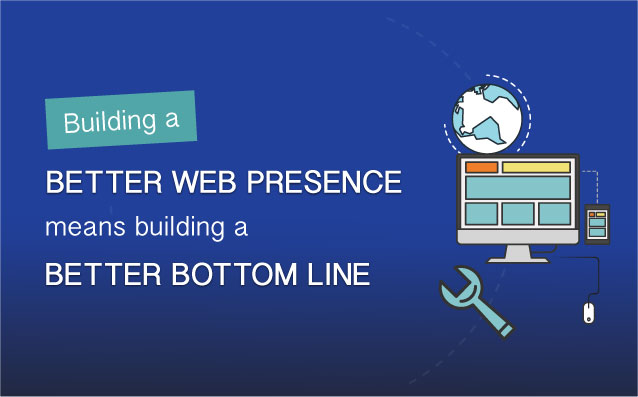 There's an old saying that reminds us "you can only make one first impression, so it is your duty to do whatever you can to make it a good one." For many small and medium-sized businesses, that "first impression" will come in the form of one of the various arms of their Web presence.
Your website, your Facebook page, your Twitter profile – all of it could be the first step on a customer's journey with your brand that, when executed and supported properly, could create the type of mutually beneficial relationship that will last a lifetime.
But building a better Web presence means more than just conversion optimization. It involves more than just making sure that the current user interface of your website is as easy to use as possible, or that your new redesign looks as attractive as it can. It involves ALL of these things at the same time.
It means bringing the various components of your Web presence together, making sure that everything is functioning as a living, breathing whole to offer the true user experience that your audience is clamoring for.
What's in a Website?
According to imFORZA, 93% of all online experiences begin with a search engine like Google – meaning that most people will form a first impression of your business based on your website.
But again, quality Web design is about more than just making sure your site looks great, it's more than that.
It's about taking control over the way it feels. It's about designing it in a way that invokes the right emotions from your customers, motivating to learn more about who you are, what you do and why they need it in their life.
This is the idea at the heart of user experience – it's not about making sure users CAN interact with your brand online, but about bringing together all of these elements to guarantee they won't be able to STOP THEMSELVES from doing so.
Consider the following statistics:
According to Hubspot, 47% of people say that when they visit a company's website, the first stop they make is to their products or services page.
However, Adobe reports that 39% of people will stop engaging with a website almost instantly if the images take too long to load.
Likewise, 44% say they'll leave right away if there is no contact information or a phone number.
So what does this tell us? Simple – that part of building a better Web presence involves taking the time to learn what your users WANT to learn and presenting it to them in the best way possible. "The best way possible," however, also brings with it its own unique sets of challenges.
According to ActiveMedia, 40% of online users said that if they found a company's website via a search engine and it wasn't optimized for the mobile device they were using, they would immediately go back and choose a different result.
Likewise, Adobe reports that almost 80% of consumers said they'd stop engaging with a particular piece of content if it didn't display well on the device they were using at all
Despite all of this, 91% of small businesses in particular do NOT have a responsive, mobile-friendly Web design for their homepage.
The HindSite Interactive Approach
For over 15 years Hindsite Interactive has been helping hundreds of clients build a better, stronger Web presence online (Since 2001!).
We do this by taking the time to learn not only what makes your brand unique, but what makes your customers unique as well.
We don't just help you craft "engaging content" – we help find out what engaging means in the context of your audience, finding ways to optimize, raise awareness and ultimately bring all of these elements together into the superior user experience you're destined to offer.
Case in point: in the modern era, a large part of building a better Web presence means relying heavily on visual content. Consider the following statistics:
The key thing to take away from all this isn't that you're facing an uphill battle in terms of building a better Web presence. The fact of the matter is that thanks to modern technology, you're really not.
The most important thing to understand is that once you DO take the steps to address these challenges and reinforce the foundation upon which your brand's digital identity is built on, you put yourself in a powerful position where success is no longer a question of "if" but when.
Tomorrow's Success Rests in the Decisions of Today
Again: building a better Web presence is less about any one particular "silver bullet" technique and more about bringing a wide range of different things – from visual content to responsive Web design to user interface best practices and more – together into a single unified idea. Creating engaging visual stories is one way to do that, but it's just one of many.
It's about making sure that the user EXPERIENCE you're offering to your audience is as strong as it can possibly be and at HindSite Interactive, this is one goal that we're more than prepared to help you achieve.
If you'd like to find out more information about building a better Web presence to build a better bottom line, or if you have questions about any other services that we offer, please don't delay – contact us today for a free consultation.