Axiom had already completed their research as well as a Beta version of the search tool. Once the necessary functions and requirements were determined, HindSite proposed a responsive web application in contrast to the idea of a native application, one that a user would download from the App Store or Android Market, to reduce cost, maintenance and updates. The web application would be hosted on a server where updates, maintenance and monitoring could take place daily.
I-Search is to be used by medical professionals to convert the change in medical codes for diagnosis and procedures for their patients. Some professionals such as medical coders and receptionists are stationed at computers where they have access to the web on larger monitors, whereas the professionals like doctors, nurses and admins are highly mobile and could only make use of this tool on mobile devices. By using responsive platform, we could make sure the experience was the same on a tablet as it would be on a laptop.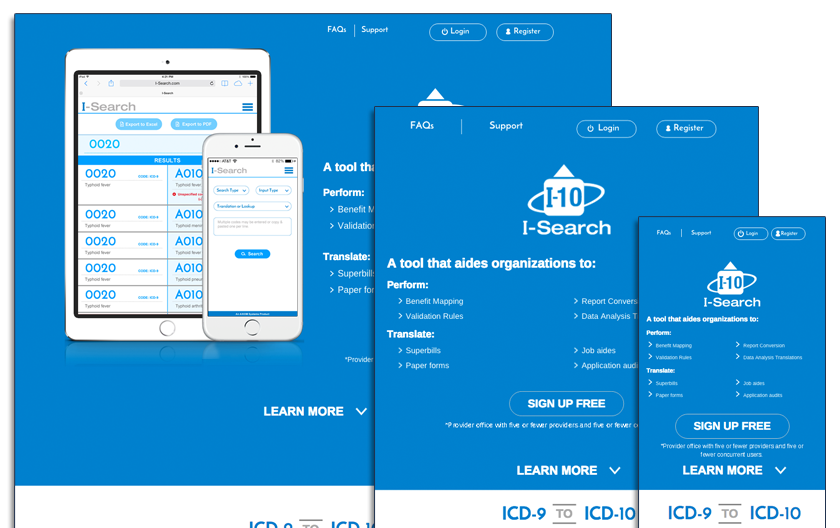 I-Search includes an administrative area for the applications' customer admin users and their employees. This area would also serve as a major communication platform for I-Search's site-admins and company admins to ask questions, report issues, track usage, edit user permissions and sign up new customers/users. The admin area is used heavily by both users and I-Search admins, so the interface needed to be clear and easy to navigate through. Each section was built to complete multiple functions to reduce to amount of redundancies.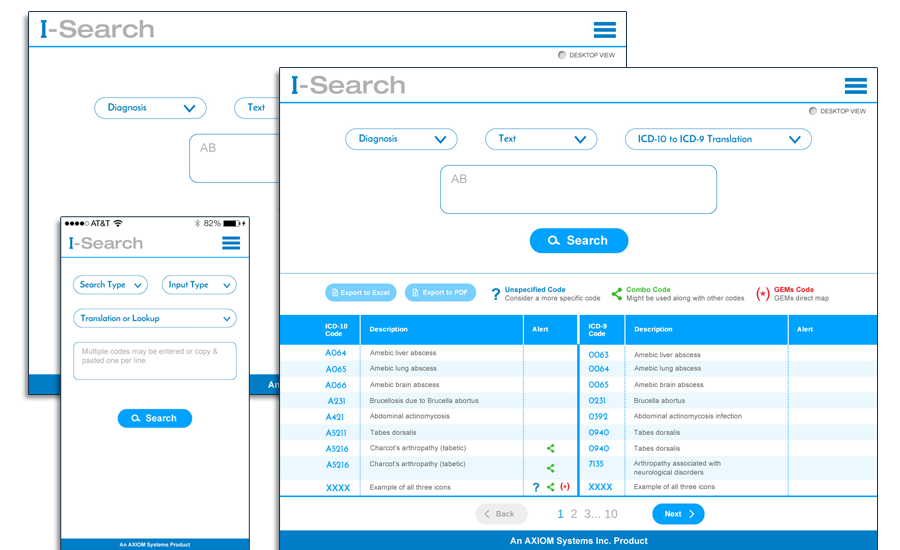 I-Search was not known as a viable tool for ICD code translations. There needed to be a marketing effort to inform prospective customers what the app does, how it works and a method to sign up for use. I-Search has a user membership for two primary groups, free users and paid users. The paid users have an unlimited number of users able access to the app whereas the free users are only allowed 5 individual users per company. Because of this two-user divide there needed to be two separate landing pages that feature similar content but differ on conversion rate.
The free user visits a page directed at informing and converting an onlooker to a signed up free user. This is accomplish this a small form was added to the bottom of the page. It's free, so why not sign up.
The paid user visits another page that again focuses on informing but also serves as a login access point to the I-Search application.