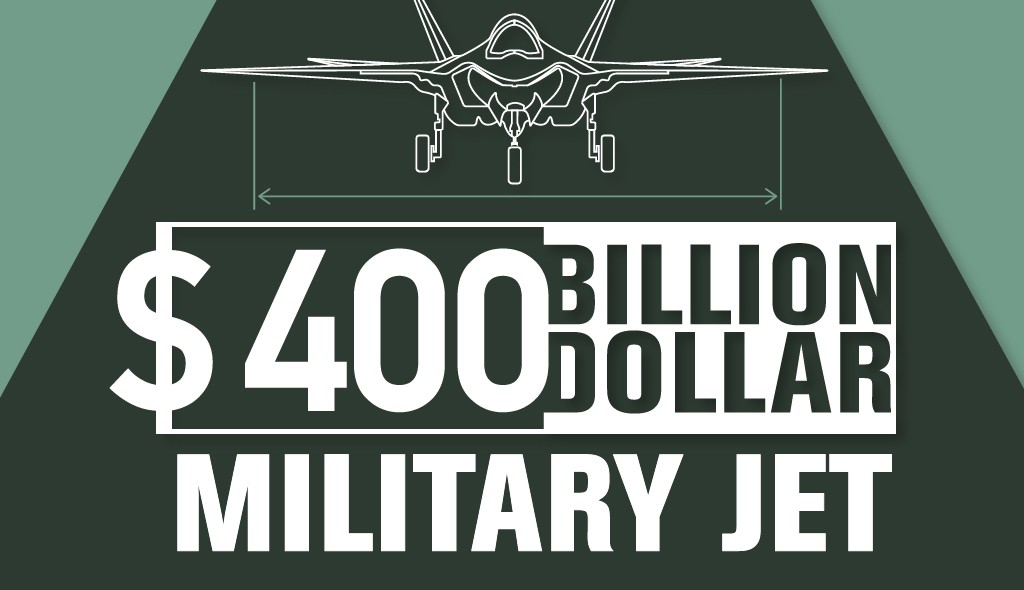 If you've been keeping up at all with the news, you're probably either puzzled, amused, angered or excited by the current landscape of political contenders.
But one thing we can all agree on is that in 2016, a key issue will be military spending.
In 2015, we saw the trillion-dollar F-35 program come under fire–with a barrage of bipartisan critique–for its many failings: the lack of a reliable engine; fuel tank and hydraulic system flaws; poor cockpit visibility; and a host of other technical and management problems.
We were so intrigued by the vast amount of money spent on this program–$400 billion for 2,457 planes–that we decided to visualize this amount with an appealing infographic.
When it comes to abstract amounts–such as numbers in the billions and trillions–the best way to make sense of them is through comparisons using more relatable figures and images, such as the number of Eiffel Towers this would represent in terms of distance (if the bills were placed end to end); or how much area this would be equivalent to if the bills were spread out flat.
Based on our own research and calculations, our custom infographics design team created this entertaining infographic, which may give you inspiration for some of your own enlightening data visualizations.

What did you think? We would love to hear your reactions and thoughts in the comments section below.
And if you'd like to create your own visual comparisons and simple data visualizations, you can try some of these free Venn diagram templates.